What Is an Illustration Essay in Simple Words
Let's start by answering the most obvious question, and we'll get to other things after that. So, what actually is an illustration essay? It is an informative writing paper that requires you to illustrate a certain notion or state of things by citing sources and providing vivid examples you discover in the course of researching a topic. That is why you might notice that an illustration essay definition coincides with than of an exemplification essay if you have come across that one on your quest for answers. The reason is simple, those two are the same thing, and this paper does rely heavily on examples that can be anything, from people, their statements, to various experiences, statistics, and situations. The purpose is to provide the most illustrative examples that help to flesh out the matter at hand.
However, keep in mind that if we were to answer "What is an effective illustration essay?" it definitely would not be just a list of examples. The point is to provide sufficient explanation with the help of just a few examples, but no less than a couple, because you can't offer a proper illustration if your essay is too short. Unless other instructions have been given to you, two or three pages is the standard length that should give you enough space for a few essential examples and all the key elements any illustration essay sample should have.
Phases of Writing an Illustration Essay
Before we get to detailed writing instructions and other tips, let us just point out for those who are really short on time that they can contact us for illustration essay examples written by our academic experts. They do regular tasks as well, so you might consider this option as well if you just don't feel like getting into all the details of how to write an essay at the moment.
Phase 1: Fix on a Topic
You may have to be required to come up with your own illustration essay topics. Keep in mind, it does not have to be something unique. In fact, it's often preferable to choose some simple everyday life concepts and situations and practice your skills by writing about something you are very familiar with. You'll find some illustrative essay tips and topics below if you are completely out of ideas for this one.
Phase 2: Research Your Topic
Sure, you've just been advised to choose something you know well to write about, yet it does not mean you can't research it. In fact, you should, as this might offer you better examples and a different point of view you might want to explore. Besides, you're required to state your sources, and an illustrative type of an essay would be incomplete without references at the end.
Phase 3: Prepare an Illustration Essay Outline
Yes, it's already the third step, and it seems like we haven't started telling how to finally write an illustration essay yet. The idea is, of course, that preparation is a substantial part of an essay-writing process. Therefore, all these actions will make actual writing a less daunting task than it might appear at first.
So, to be able to write an illustration essay outline, you need to collect all the examples and points you have after researching your topic and structure them in a certain way that will be the most beneficial for your paper. Not everything might make it, so you have to stop your choice on the most crucial information that creates a good flow. The basic structure consists of an introduction, illustration-containing essay body paragraphs, and a conclusion.
Phase 4: Transforming Your Outline into a Proper Essay
This is when you should elaborate on those materials you have found and written down and connect them into one logical stream of thought. If you check examples of the illustration paper, you will notice that various transition words are often used to achieve that result. Here are some of them:
for example
as an illustration
one more instance of
to illustrate
similarly
here are several examples
in contrast
in other words
in this case
furthermore
We'll dwell more on some of the illustrative essay structural elements in a minute because they require more attention.
Phase 5: Write Your References
Since you are providing illustration essay examples that must come from various sources, don't forget to indicate those at the end of your paper so that you are not accused of plagiarism. Check the referencing style that comes with your essay instructions to make sure you list the sources using the proper format.
Phase 6: Proofread it Before Submitting
However interesting your illustrative choices of essay ideas may be, it's possible that you will feel too tired after completing the paper and consider it finished. Do not make a mistake of submitting a paper that hasn't been proofread. Leave it for a day or two and come back later, and you will likely discover at least several mistakes or weak spots.
You can use grammar checkers to assist you with this, and should you have no time to spare, you can hire our professional writers to proofread it for you. Not only will they look at your illustration essay with fresh eyes, but their extensive experience will help them improve your paper within the shortest time.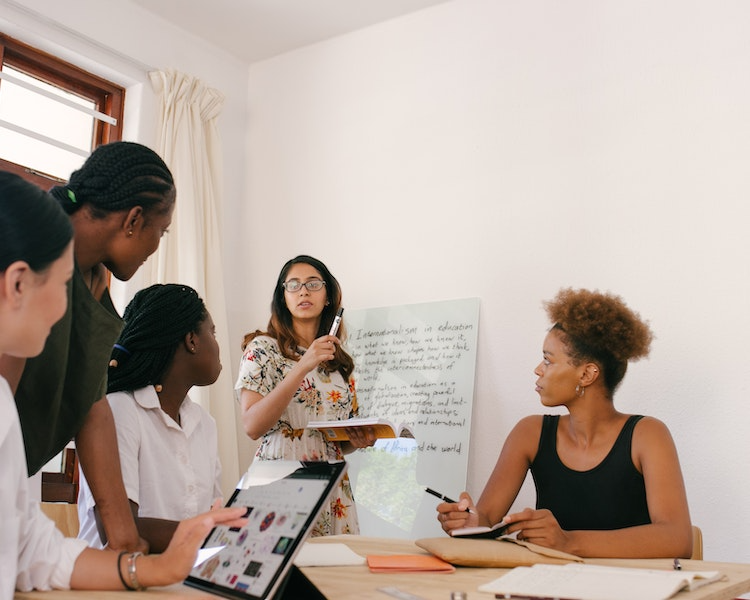 Where to Find Ideas and Supporting Evidence
Coming up with illustration subjects and essay ideas can seriously slow you down at the very beginning. So, you should avoid wasting too much time on it and use some simple tips to accelerate the process. First of all, you can start by checking our short list of illustrative essay topics. They might provide you with subjects that inspire you, and from then on, it will all be about finding enough evidence and proper examples.
Do not limit yourself with certain sources of information, you can find great ideas and examples practically everywhere, from news channels and encyclopedias to personal blogs and even Reddit threads. Whatever you think might be relevant for your topic may provide you with some fantastic illustrative essay ideas.
An Illustration Essay Thesis Tips
Now, it's time to focus a little more on some important structural elements if you want to know how to properly write an illustration essay. Your introduction should present your topic, but its climax lies within the last sentence or two that constitute your illustration essay thesis statement. There may be another sentence after your thesis that is used as a bridge from the statement you are positioning at the core of your essay and to the body paragraphs containing supporting evidence for that idea.
The Body Paragraphs Structure
As a rule, an illustrative essay has thee body paragraphs, unless you have different instructions. The supporting material has to be presented in a specific order, and each of these paragraphs should follow the same structure.
A topic sentence presents the point you will be discussing in this paragraph and that has probably been mentioned in your thesis statement.
Next, come background sentences that provide additional information about the said point. It may require from one to three sentences, rarely more.
Research sentences are the examples used to support your illustration essay ideas and may be presented in the form of quotations or retelling of what the sources had to say about it. The perfect approach is to have two examples for each claim you make in each paragraph. Make sure you cite these sentences properly, following the given instructions.
Analysis sentences are dedicated to interpreting how your research material is relevant to the thesis and what they mean for your topic.
Transition sentences serve to provide closure to the present paragraph by making a brief summary and creating a seamless transition to the next point in a new paragraph.
Use the illustration essay sample outline to organize your best claims and supporting sentences and see whether you have everything you need to start fleshing it out.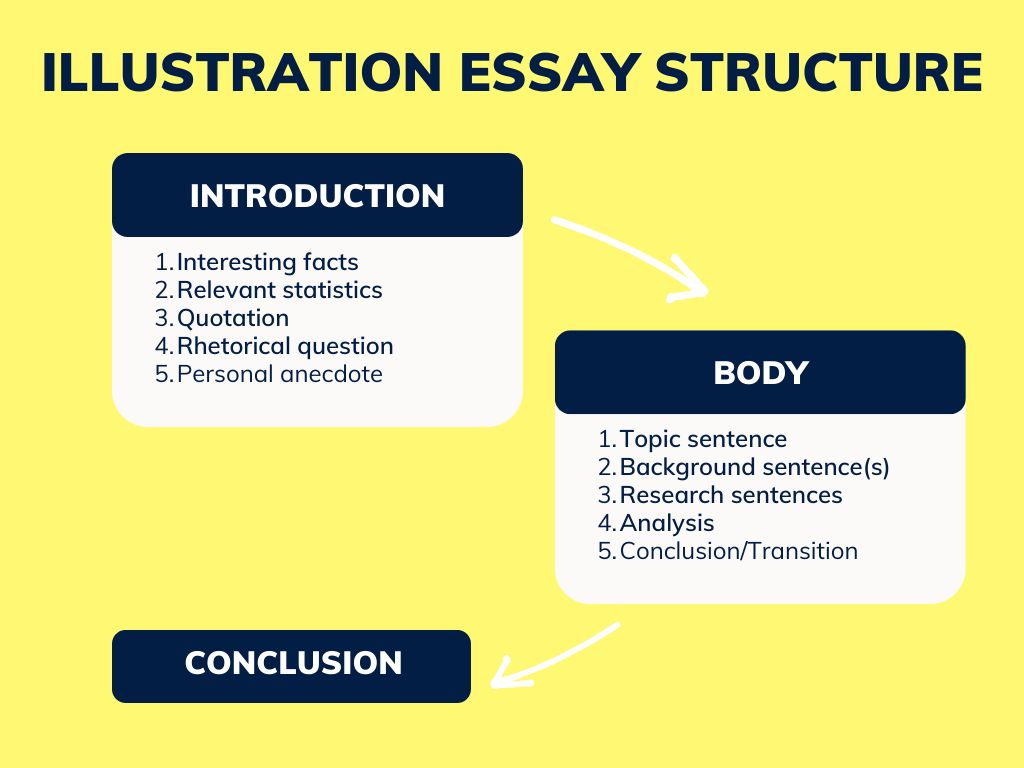 Some Illustration Essay Topics Worth Considering
So, you already know what is an illustration essay, what its structural elements are, why they are important, and what makes a convincing illustrative essay. What are you waiting for? Ah, the ideas for topics. All right, here you. It's not much, but it's honest work.
Many popular sports are overrated.
Challenges of having a roommate.
Waiters don't get the recognition they deserve.
How to communicate with people from your past without awkwardness.
How to avoid confrontations with fellow students/employees who annoy you.
A step-by-step guide to becoming a professional sprinter.
Explain how censorship on TV works.
The nature of consuming alcohol.
The dangers of scientific development.
Why rich people don't feel happy all the time.
Blaming illegal immigrants is immoral.
The importance of fact-checking when learning history.
What forms does domestic abuse take.
The disadvantages of having way too many laws.
What facilitates a virus outbreak.
Positive sides of procrastination.
Social media has changed the way people communicate within families.
How celebrities use their public image.
Technologies have altered the way people experience emotions.
The language defines our way of thinking and living our lives.
Relevant education is not enough to be a teacher.
Why teenagers consume alcohol before reaching the drinking age.
What are the purposes of artificial technology?
Are crime rates lower among religious people?
Do commercials really help to sell products or alienate people against them?