Students are often assigned classification essays to evaluate their ability of data categorization. Even if it seems hard first, in reality, this is rather a simple task if you know what to do. Classification is defined as the way of arranging a number of objects together as long as they share some similar features or source. A classification essay is a paper that deals with arranging several topics in one academic setting sharing common characteristics.
Students prefer to write essays they are accustomed to, like narrative, reflective, or argumentative ones. The classification essay example is not popular but it is not that difficult if to look deeper. The basic goal of this assignment is to help organize thoughts, ideas and other things into categories to pass the right message to those people who would read and analyze it.
What is a classification essay?
Let's figure out what is a classification essay from an academic viewpoint? This is a classification paper that identifies ideas, objects, characters, and things with shared specific features and divides them into certain groups and categories. Probably, the simplest way to give an explanation is to call it a formal academic paper aimed to demonstrate your categorization skills.
When writing, you will have to arrange given subjects into groups and suggest your own classification essay samples that fall under each one. You choose what criteria to apply for classification and you also have to explain the reasons why you did one way and not another. The basic idea here is to clarify the general principle of categorization, identify a method you will evaluate it and choose the right categories.
Main parts of classification paper
Now when you got the answer to the question "What is a classification essay?", let`s move to the stage when you create a writing plan and start your paper. In the academic field, this is called a classification essay outline: a mini-plan you will use to base your thoughts upon, its structure or skeleton. Having this plan is critical for any writer, beginner or professional, as it helps you easily plan the paper by paragraphs and move step by step. Basically, a classification essay outline is not different from other paper types: it still has the introduction part, the main body with at least three paragraphs, and the conclusion.
Each section consists of the necessary elements to be included in your paper:
Introduction. This is the very start when a reader should grasp a basic concept of your classification essay idea. The main goal is to attract attention, get the readers interested and eager to be guided through the whole analysis. Comment what you will be categorizing and why, and also give a brief description of groups criteria and close it with a thesis;
The body. There may be three or more pieces based on the number of categories. The best way here will be to devote one paragraph to one category to make it clear and more relevant for the reader. Provide the criteria and begin with analyzing different examples. Check whether you created smooth transitions between categories going to a new paragraph;
Conclusion. In the final part of your classification essay, you bring all the categories together from the main part and give a brief rundown on each of them. You may suggest your readers choose one and provide arguments proving your recommendation. It must be as powerful as the introduction; however, there is no place for fresh ideas, just end here.
Schematically, it will look like this:
Introduction + thesis;
Body paragraph one + one category;
Body paragraph two + one category;
Body paragraph three + one category;
Conclusion;
References.
Most popular classification essay topics
Not all your ideas can be good for an academic paper, especially for a classification paper. However, to make this task easier for you, we narrowed down their list to the following most common classification essay topics students usually choose:
Sports (kinds of sports in different countries, gyms, sports competitions, sports reality shows, kinds of exercises for different parts of the body, etc);
Movies (TV series, different movie genres, movie makers, actors, movies with a particular actor starring, movies about love, anime movies, best comedy movies, US movies, etc);
Meals (ways of eating, best restaurants, hot meals, meal delivery, meals that lead to diabetes, healthy meals, etc);
Music (famous composers, types of instruments, music genres, famous US singers, religious music, female rock singers, groups, etc);
Animals (wild animals, pets, rare species, river species, ancient animals, types of cats, animals that live only in Australia, etc).
Just pick one sample classification essay topics or choose yours.
How to write a classification essay?
Besides the 5-paragraph structure, your essay should include:
Definition of the categories/classes
It is important to have all classes and not to leave any out of your classification essay. As an example, if you talk about traditional English sports and mention polo, golf and tennis but forget about cricket, the paper will be incomplete as cricket is especially important for the English culture. However, try to avoid classification essay topics with many categories as your paper will be way too long.
One approach for all categories
Check whether all categories fall into the same principle of structuring. For instance, if the topic is food, there is no need to create a category for drinks.
Everything needs an example
Share the same number of patterns for all categories. The more examples you provide, the better your readers will understand your point.
Learning more on how to write a classification essay, you understand that this not a type of paper when you can just begin with no plan in mind. Once you defined one of classification essay topics, consider the following:
Choose the categories. Imagine that you have picked female rock singers. How will you categorize them? Probably by age, appearance, location, popularity, etc;
Get categories in order. What sequence will you be following when placing the categories? Think about connecting words and sentences you will use to smoothly transit from one category to another. The best way will be to go from the most significant material to least;
Create a thesis. As a part of your introduction, it will shape all your approach of categorization, so developing a good one will keep your writing on track. In your thesis, you can explain the criteria of classification or the purpose and you can always refine it as the writing goes.
Once you are done with this, you more or less know how to write a classification essay to make it relevant and logically organized.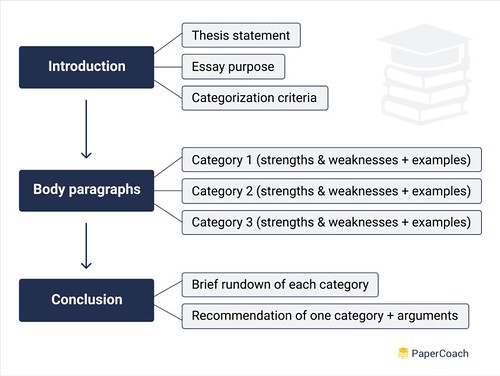 General tips on easy writing
Building up your classification essay, there are some simple things to remember:
Do as much research as possible on all categories;
Don`t jump between the ideas. Go straight from one thought to another one not to create a chaotic impression;
Clearly separate the ending of one paragraph and the beginning of another one;
Do not use such expressions as "I guess" or "I assume". they only make readers doubt your opinion;
Do not exceed the limited number of words;
Don`t forget about grammar and punctuation typos;
More, more examples!
Use the compare and contrast method;
Read a classification essay example to have an overall idea;
Leave the most important category for the end.
The process of writing a classification essay may be really messy as there are many ideas to put together. Following this guide is likely to make this task easier and bring you a good grade. If you're looking for someone who can do my essay, you can contact us and we'll help you write the paper you need.