What Is an Essay Hook? How Does It Work?
How often do you use hooks for your papers? Do you know how to write a beneficial hook? First things first. An essay hook is an opening statement used to grab readers' attention. If you wish a hook really works in your paper, you have to select the right one and remember that a good hook refers to the whole topic of your work, not just to some passages. Writing an excellent introduction to your essay makes your paper easier to read as an intro is like a seed. When you drop the right seed in your composition, you will get great results.
How to Find Beneficial Hooks?
Before using good hooks in your essay, you have to know what kind of paper you are going to write. It can be a definition, descriptive, or narrative essay and can be totally different from argumentative and critical ones. So, it means that grabbers for essays are nothing alike. Think of who is going to read your piece of writing. Each generation speaks its language, so if it will be read by children, use a simple style, or if your essay is intended for professionals, you can use a specific language to write an effective essay hook.
Why Do Facts Work as an Attention Grabber?
If you want to make someone read your paper to the end, get hooked him with a good attention grabber for an essay, such as a fact that they may not have known, and that will attract interest to the whole work. You can use a surprising fact which leaves no one indifferent. Let's consider one of the following hook sentence examples:
Diet Cola will ruin your brain and give your brain cancer.
Admittedly, it's a shocking fact, but such points usually work in most cases.
Try to avoid too complicated and too long expressions in facts. Otherwise, your essay will be dull from the very beginning.
A Catchy Fact Makes an Audience Read the Entire Essay
If you write a fact essay hook to drag attention to your paper, bear in mind that there are two types of facts: statistical and interesting. The statistical facts are used while writing an essay relating scientific subjects. Interesting facts could be some new information that you faced while investigating your topic, and you want to share it. Look at some examples of essay hooks:
Children aged 0-14 years account for only 12% of the population in Germany while in Kenya, this group accounts for 40%.
If you accidentally rip up 10 Australian dollars, don't get upset - you can use both halves as a five-dollar bill.
Win a Reader With a Joke
If you are eager to make your composition easy to read, catch, and hold a reader, anecdotes or jokes are considered as great hooks for this purpose. You can use a funny story, a story from your own experience, or a figment of your imagination. Your joke should be referred to as the main idea and shouldn't be offensive. Of course, when a person starts reading your paper, he can ask, "Why did he write this joke? Why do I need it?" but nevertheless keep reading your work to find out why this joke refers to it. Your goal is achieved, your paper hook has worked, and your reader is captured, and he is going to learn your entire essay.
Do Opening Questions Hold Attention: True or False?
An opening question is one of the efficient grabbers for essays. For instance, asking a question such as "How would you like to make a million dollars in ten minutes?" People would like to learn the answer to the question if your paper is started with a question. The simple trick of setting a question at the beginning will interest your readers. This desire is based on curiosity. So, if you wish to know how to write an opening question hook, rely on people's feelings and possible emotions. As an option, use a rhetorical question. It's an affirmation question that does not require an answer. A rhetorical question attracts the audience's attention, makes them think about the problem, and pushes them to a particular conclusion. For example, People need food and water to live, don't they? Using similar hook sentence examples is an exciting way of starting a composition on such topics as life values, existence, society problems, etc.
Let's Write a Brilliant Research Paper Hook
You know that writing research papers can be overwhelming and exhausting. Even knowing that you need to find a suitable paper hook doesn't make it easier because you have no idea for hooks at all. Here you can find some useful hooks for your research paper.
Famous quote. The usage of a quote from an influential man is an excellent way to support your idea. It will show that you have something in common with the mentioned person.
Setting the scene. It can be used as a good description hook. When you paint a picture with your own words, it draws the audience to read your paper to the end and find out how you have solved the current problem.
Use statistics. It's a good idea to back up your statements with actual statistics and proven facts.
Set your thesis. It will express your side of the argument, and readers will be inclined to understand why you chose this position, and keep reading.
Persuasive Essay Hooks
Persuasive hook sentences are powerful statements that bring an affirmation about your paper. The technique of a strong statement is suitable here because it doesn't matter if your readers agree or disagree with you. They just wonder how you are going to support your idea. A persuasive essay hook makes readers' pay attention to the current issues and starts thinking of how to solve them. An excellent way to catch someone's focus is to announce the problem or question that is related to the topic.
Good Hooks For Compare Essay
Having a task to write a compare essay, you need to provide good hooks for two points of view, as in this type of essay, the main task is to consider two existing points of view. A good idea for essay hooks can be using statements with pros and cons. For example:
Being a vegetarian has its distinct advantages and disadvantages.
The next step is to evaluate both positions objectively, and express your opinion about the problem, give examples and evidence.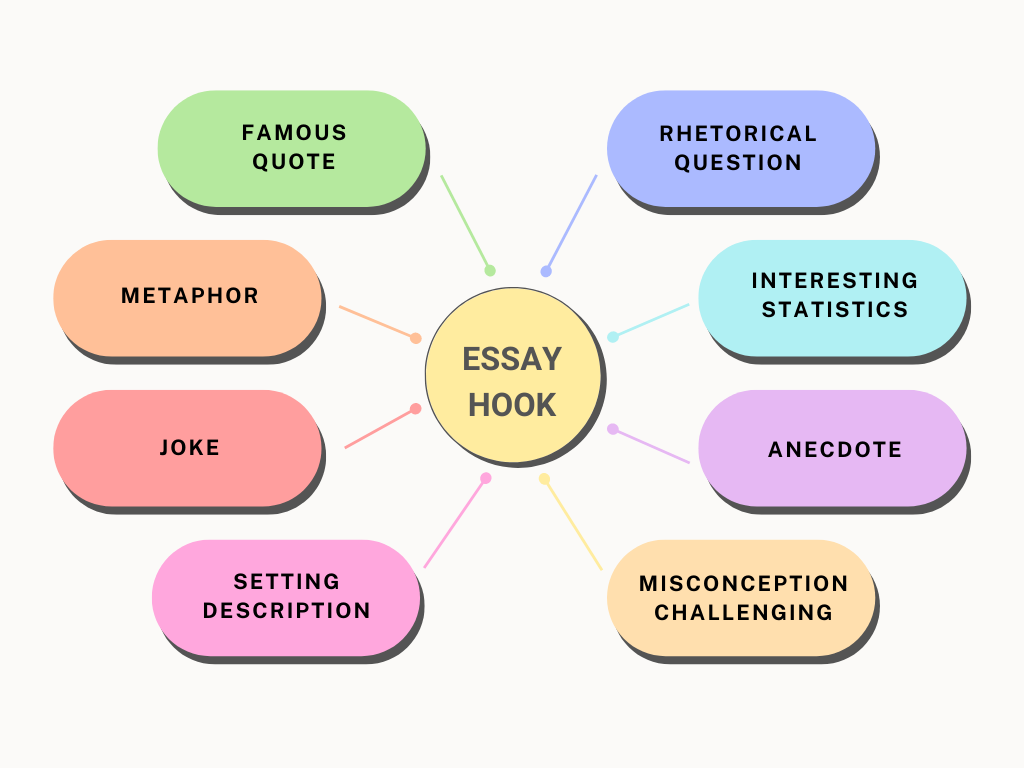 Ways to Create a Paper Hook of the Mixed Type
If you don't take an easy road, you can try to write an essay hook of the mixed type. It can be rather tricky, but it's worth the risk. Experienced essay writers combine a narrative hook and an anecdote. As a result, they have a vivid, rich story that can't help but attract the audience. Or you can start with a thesis statement and add a question to develop your further discussion in your essay. Let's have a look at some hook mixed examples.
Children must be disciplined. How can we achieve it?
The digression will confuse your readers, so while writing, stick to the main idea of your composition.
A Literary Quote Helps to Express Your Deep Thoughts
An excellent attention grabber for essay is a literary quote. You can start your composition with something that has been written or said a long time ago by outstanding poets or writers. Quotes help you not only to express yourself but also to catch and hold a crowd of readers. We got used to trusting people who succeeded in life, and their words usually have some power. Have you got an idea of creating a good essay and would like to know how to write a good literary hook? Investigate your topic properly and think of writers who have ever dealt with this topic and choose the best one that will be able to characterize your position.
Famous People Quotes Provoke the Reader's Interest
Quotes from famous people's inspirational speeches can draw attention to your composition. Their motivational monologues have been divided into hundreds of quotes that are widely used. Let's look at a hook using quote examples.
If you judge people, you have no time to love them. Mother Teresa
This quote could be appropriate to discuss people's relationships or problems of the generation gap.
Effective Ways to Start Your Sentences in an Essay
Good hooks make the difference while writing an essay. Still, it often happens that a person, having enough eloquence, face obstacles in starting an essay. Sometimes you just need to start your first sentence, and then everything is going okay without any hook sentences. If you wonder how to begin your sentence effectively, you can use the following prompts. Don't forget to use transition words (as well as, due to, for this reason), use words when citing (in fact, for instance, namely), use words to order events (eventually, in the meantime), summarizing words (all in all, in brief).