The definition of a persuasive essay lies in its name - it stands for the type of writing where the author's job is to persuade the reader. You take one point of view on the issue and try to convince your audience that your position is right. At the same time, you prove why the opposing opinion is incorrect.
The art of persuasion is a vital skill in real life. Advertising, electronic and printed media, and political speeches are based on it. In order to successfully achieve your goals, it is important to learn the techniques of persuasive writing, and we are going to share them with you in this article.
How to Choose College Persuasive Essay Topics
The first stage of writing a persuasive essay is choosing a topic (if you are not provided with one) and reflect on it. The topic must be something arguable and important in the modern society. Do not choose topics that are too easy - your professor will get bored and likely grade your paper low. At the same time, it will be difficult to find enough evidence and prove your point of view if you choose a peculiar issue. If you are lost in thought as to what to write about, here is our list of good college persuasive essay topics: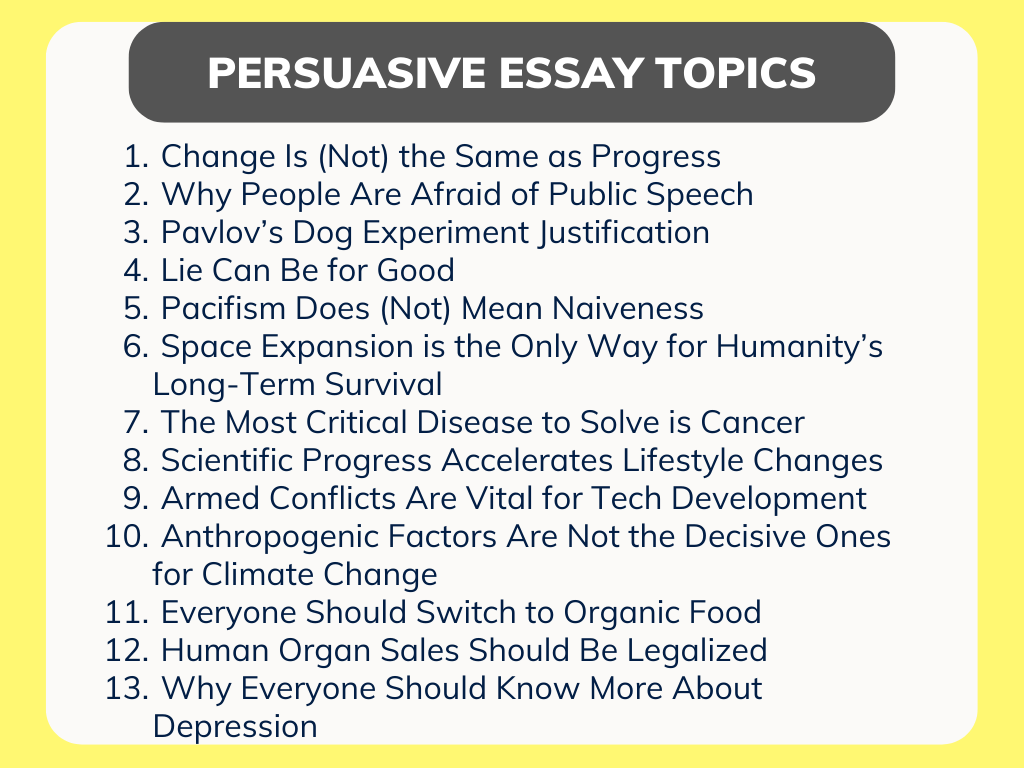 Once you've decided on the issue to cover, think about your position with regard to it. Remember, you cannot wear two hats. Your task it to defend one viewpoint and refute the opposite opinion.
Importance of an Argument that is Supported by Research and Strong Evidence
Every well-written college paper requires research. Begin with brainstorming the ideas on how you can support your viewpoint, then look for related information. Consult several sources and expert opinions to provide strong arguments in favor of your position. Choose the most convincing ones keeping in mind that your point of view is baseless without evidence. Select counterarguments too if you find some. They will also help your reader see things your way.
How to Write a Persuasive Essay Outline
An outline of any essay consists of the same elements: introduction, body paragraphs, and conclusion. However, what you choose to present there and how you do it is important. So, let's begin writing your future essay's "skeleton".
How to Write a Persuasive Essay Introduction
Of course, your professor has to read your essay from beginning to end, so you have to capture his or her attention with a "hook". You can do so by using a shocking fact, funny story, or an intriguing question. Then list your arguments in the order you will present them. Declare your position on the topic in a thesis statement. It must be clear, concise, and arguable.
How to Write Body Paragraphs of a Good Persuasive Essay
There should be three or more body paragraphs depending on the essay word count requirements. Each paragraph should have a topic sentence, that is, the main idea to be discussed. State the reason why your position articulated in the thesis is right. Support topic sentences with evidence and examples. Your persuasion will be stronger if you present an opposing view on the issue. Refute it by providing supporting details.
How to Write a Conclusion for a Persuasive Essay
In the conclusion, generalize the most impressive evidence. Restate the thesis in other words. Note that the audience always remembers the last words regardless of how well-grounded your whole speech/writing is. So make a closing point provoking or touching. Encourage the reader to adopt your position or take action.
Persuasive Essay Revision
Do not hurry to submit your essay right after completing the last sentence. Re-read your writing the next day or at least a few hours later. Correct mistakes, rephrase some parts if something bothers you. If you notice imperfections, your professor will do too. Revision is as important as writing itself.
Watch the following video to summarize your knowledge about how to write a persuasive essay step by step:




We hope now you have enough confidence to write a persuasive essay by yourself. If you are pressed for time or have other reasons that make it impossible, our writers will create a persuasive paper for you. Just place an order!