Starting to write your academic paper from the blank paper is the worst thing you can do for your productivity. As a rule, most students are feeling confused and have no ideas on how to rocket launch their essays when creating an essay from scratch. Fortunately, you no longer need to face any issues or lack of creativity when completing your assignments. The outline for essay is here to help you create an astonishing paper in no time. And we are ready to share how to write it easily with you. No worries, crafting a perfect one is as simple as 1-2-3! So, let's start with the basics to put all the things clear for complete newbies in academic writing.
The essay outline: What is it and why do you need it?
To put it short, the outline is a simplified structure of your academic paper. It helps you clarify which content you will use in your essay and craft an easy scheme on how it will look like. You will need to specify which topics you will cover in each paragraph, as well as have a basic design of all the parts of your text. In other words, a short essay outline is a skeleton for your paperwork. When you search for an essay outline online, you might find a great sample for your particular topic. However, searching will take tons of time. Below we offer universal types of paper outline that will suit most kinds of academic papers. You will no longer need to stick to the screen of your laptop for hours searching for a perfect structure - we've already done that for you!
An essay outline example: Choosing the best structure
When choosing the most fitting structure for your academic paper, it's necessary to stick to the norms and guides offered by your professor. Fortunately, most types of essays have a classical structure, so you don't need to have your head-dizzying when creating a well-designed outline. In case you are looking for polished skeletal outline examples, feel free to choose the one below that fits you most.
Alphanumeric outline: Top template structure for your needs
This structure continues to be one of the most popular ones among thousands of young learners. You've definitely seen it before in different guides, manuals, instructions or other documentation since it is widely used in various niches. The core of an alphanumeric outline template is about adding subdivisions with roman numbers and capital letters. In case you want to make your structure even more diverse, you can add Arabic numbers and lowercase letters.
Note: It is important to keep the priority mentioned above and not to mix the order of the numbers and letters.
Decimal outline: Pick up the best example for your essay
This type of outline structure has lots of similarities with the previous one. The main difference is that it only uses numerals. Lots of students prefer this type of structure since it is easier to understand and more straightforward. Furthermore, the connections between the basic elements of your essay outline look clearer. Looking for a decimal outline example? There is nothing easier! Just use the decimal system starting from 1.0. and continue with 2.0., 2.1.; 3.0, etc.
Top prompts on how to create an essay paper outline
Experienced writers can make a top-notch outline in a matter of minutes. With our handy hints, you will be able to make it like a pro in minutes. Just follow the simple rules for the brilliant essay format outline below and craft the draft of your academic paper in no time.
Note down all important facts and arguments
This simple trick will help you distinguish the brightest facts on a chosen topic which you will be able to add to your outline. In case you fail to make notes from the very beginning, you might easily forget or miss something important. It is also recommended to write down the supportive facts that will become sub points in your outline. The reason is that it might be difficult to remember all the arguments, historical facts, quotes, and ideas for your academic paper. Making notes will surely make the first draft of your essay more informative.
Follow the rules
When setting the tasks before the students, the professor usually provides them with detailed guides and manuals with all the information needed for making the assignments successfully. Following the writing rules found online is great but never neglect your teacher's requirements for creating an essay. Your outline format is not an exception to the rule. Although your mentor will not see it, your outline should still comply with the required voice and tone. Remember that the formal language is among the most important features of any academic paper.
Split your ideas
One of the most common mistakes of lots of students when creating their essay outlines is mixing all arguments in a single paragraph. The best advice here is to make a mind map and then reflect your thoughts on paper. All your ideas and basic points of an academic paper should be well-structured and precise. This simple trick will also help you detect minor facts that might not be included in your essay.
Look for essay outline top sample
Picking up various samples is the best way to understand something you need to implement in your own academic paper. Therefore, you can choose the outline that suits your essay the best and start enriching it with powerful arguments and other types of data.
Stick to the topic
It often happens that the topic of your essay appears to be too broad. Always try to be as precise as possible and set up your unique borders when creating an text. It is necessary not to get flooded by tons of facts.
Essay outline example: The basic parameters
Now, it's time to know more about the key items any outline should include. These are the classical introduction, the main part, and the final part (conclusion).
Introduction
The first thing you need to know about this part is that it shouldn't be too long and tricky. As a rule, you will need to drop just a few sentences to create a hook for the readers. This is the basic block for each academic paper and you should never skip it. By the way, don't forget to mention your thesis and the main topic in your essay outline.
The main part (body)
Feel free to describe all the facts and arguments in this part of your essay. When creating an outline, point out the most significant parts of your paperwork. The paragraphs of your essay should be rich in facts and descriptions, so don't be too short.
Many students forget about the basic rule of establishing tight connections between the introduction and each paragraph. All the points in your essay should support your thesis. Otherwise, you might get a lower grade for your assignment. In case you feel stuck when switching from one paragraph to another, use transition words and phrases. You can also note them in your outline for essay.
Conclusion
This is the final word to say about the chosen topic. Most students feel confused when it's time to create a summary. However, it is easier than you might think. Just start it with your thesis statement, describe the importance of your topic, and drop a few sentences about the other aspects you find necessary. Don't mention any new data in the final part of your academic paper. In case you don't know what to write about in your essay conclusion, look for any outline example to grasp the best writing methods.

Here is the basic outline structure you can use in your academic papers:
Take a look at how your outline might look like: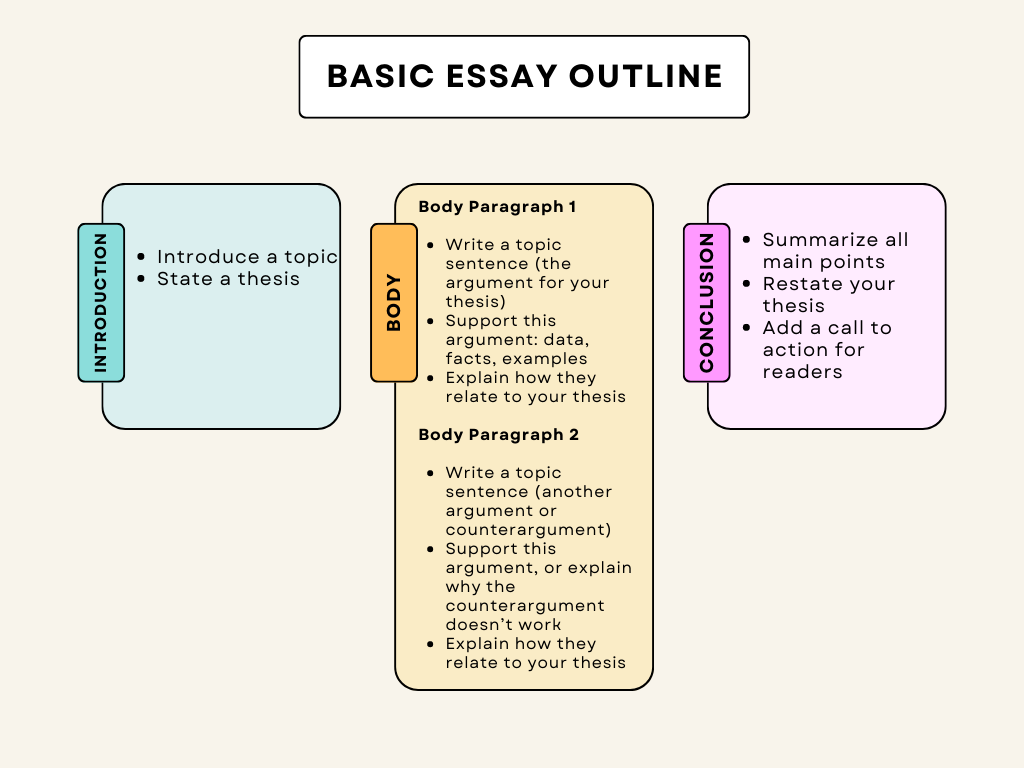 Essay outline sample for each type of academic papers
There is nothing new that each type of academic paper has completely different goals and is developed to boost various students' skills. Therefore, different essays might require diverse outlines.
Tips for a narrative essay
This type of assignment is considered to be among the easiest ones because you don't need to do the research to prepare your essay. The only must-do requirement for a successful narrative essay is to make it as engaging as possible. This means you will need to do your best to entertain the readers. For example, you can add some unforgettable characters, exaggerate facts, and make the plot unexpected. Enrich your narrative text with outstanding details and emotions. Make sure all the events described in your essay are real since this type of academic paper should involve only true-to-life descriptions.
Take a look at how your outline might look like: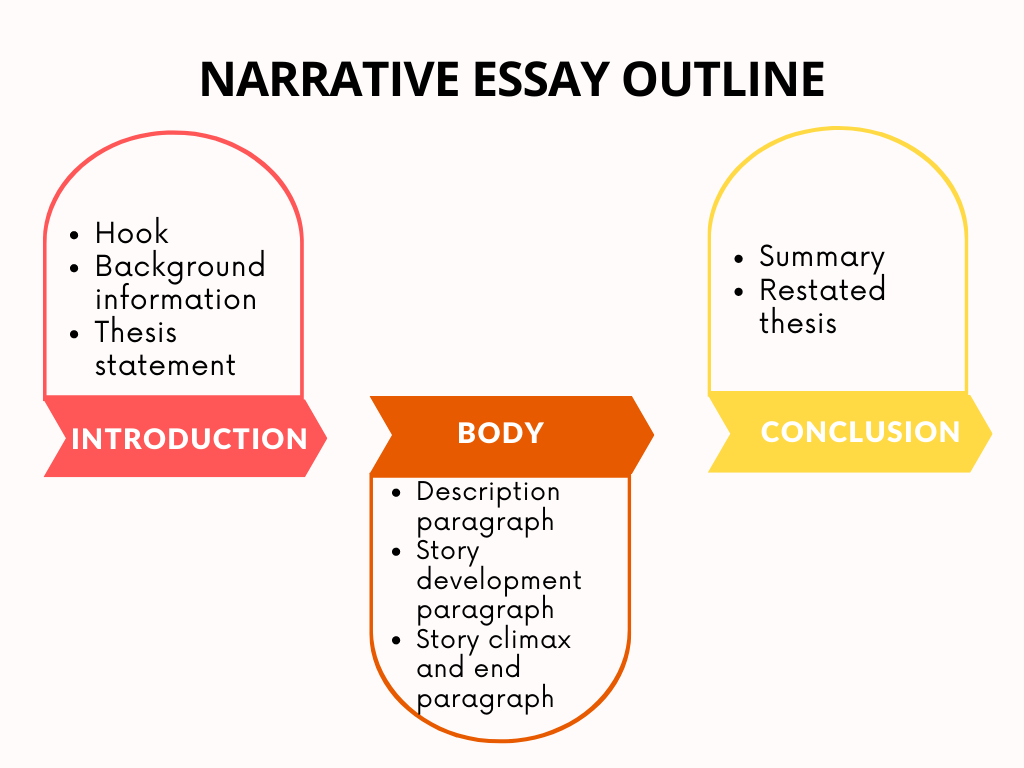 Tips for comparative essay
This type of academic paper has been assigned to thousands of students each year. This essay is designed to boost your skills in analysis and critical thinking. The matter is that you are expected to find similarities and differences when comparing different facts and events. To make your job easier, make a more precise thesis and use cue words in your essay.
Take a look at how your outline for a comparative essay might look like: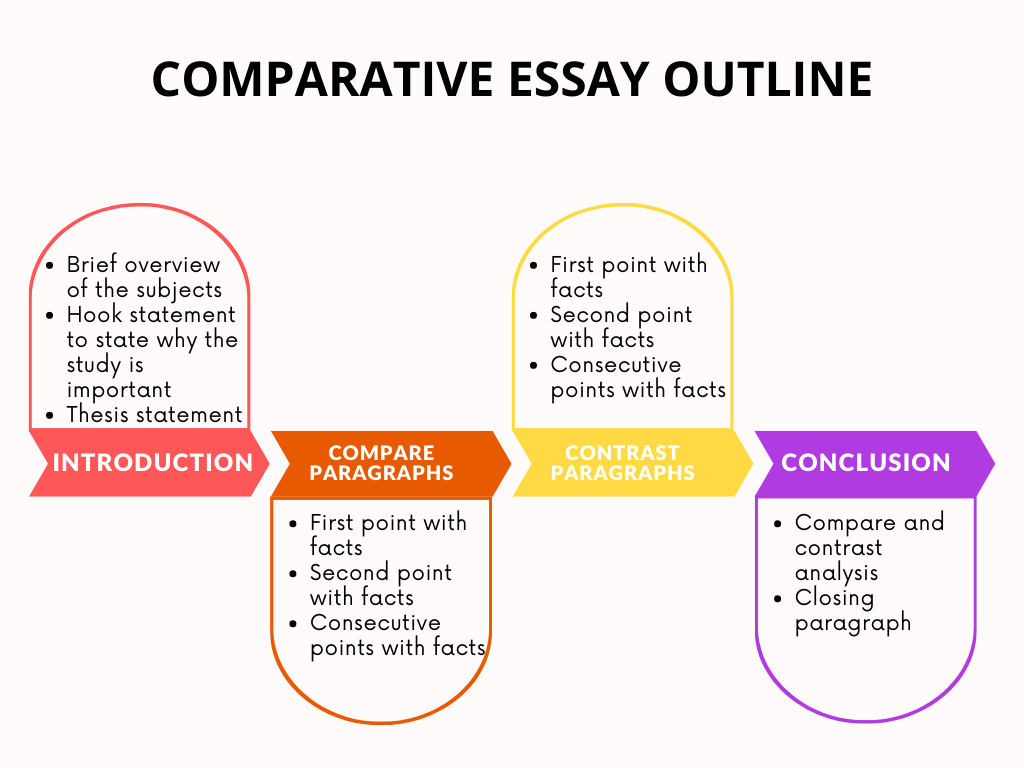 Tips for argumentative essay
This type of academic paper has lots of goals. When creating an argumentative essay, you learn how to express and support your ideas and views, providing strong points. Our experts believe that to succeed in creating this type of essay, it is better to pick up the topics you are really good at. Furthermore, it might be a good idea to do an advanced research and come up with powerful arguments only.
This is how your outline might look like: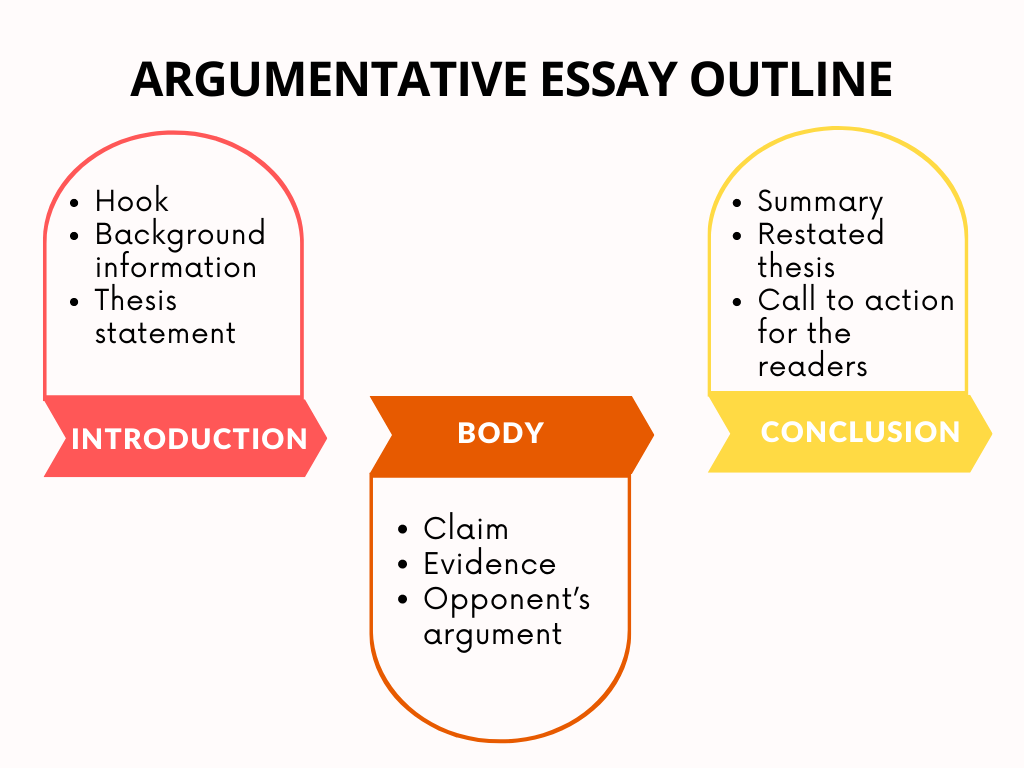 Top prompts from our professionals
We know that creating an outline is often extremely challenging. However, these small hints might be helpful for you to cope with your assignment:
Choose the topic wisely and avoid writing on completely unknown subjects
Focus on the audience and determine the basic goals of your essay
Review your essay not to miss any misprints and mistakes
Have a good luck with creating a perfect outline! You can do it!