What Makes Essay Titles So Important
If you have ever been wondering why your essays get a grade lower than you expect despite them being really well-written and properly structured, your essay titles may be the answer. And if you are only starting to learn how to do all that, all the more reasons to read this article and learn the ways of crafting an attention-grabbing title that your essay will benefit from. Or you can order a paper to be written by our wordly-wise experts and free yourself from the necessity to learn the art of coming up with good titles for essays, at least for now.
Now, the title makes only a small percentage of the essay in terms of size, but much more than that in terms of importance. That is why knowing how to properly title a college essay is extremely important if you want your work to be given the consideration it deserves. Since the title is the first thing readers see, they often involuntarily judges the whole article or essay based on it. And should the author fail to think of any catchy titles for an essay, the chance of making a strong impression becomes smaller. There is also a risk of spoiling that impression altogether if a title turns out not to be matching the contents of an essay or if a reader is.
Hopefully, you now truly realize why it is crucial to create catchy and persuasive essay titles, and this guide will teach you to do that, as well as show some examples for you to get a better understanding of the process.
Essential Features of Good Essay Titles
While you can expect teachers and professors to read your essay till the end, regardless of the title, you can also be sure that they will assess it separately and as a part of an essay. Therefore, you need to know what they will be looking for in the heading you put on top of your work. Here are the qualities creative essay titles should possess:
Catchiness
That's one of the more obvious qualities, yet many students don't realize they still need to write their topics in such a way as to evoke interest, even if your professor or a teacher is the only person to ever read it. If you learn how to grab their attention right away with essay titles, they will be more inclined to give you a positive score.
Briefness
Think of movie or book titles. Can you name a lot of them that have topics you wouldn't even bother trying to remember? Sure, there are a few exceptions, and the rarity of such examples is one of the aspects that make them work. However, you can hardly ever go wrong with furnishing your essays with titles that are short and to the point.
Accuracy
Making the heading catchy does not mean it should be lying or promising a reader something he won't find in the essay. Moreover, an essay title is where your introduction truly begins, and so it has to give a reader a notion of what the paper is about and what it will be focusing on. So, the topic should not only be true to the essay, but also composed in such a way that it is believable. Otherwise, readers can just disregard it altogether or find the contents disappointing.
Readibility
In order to be persuasive, essay titles have to be easy-to-read. That is why they cannot be too wordy or twisted, and pay attention to the words and phrases you choose for it. Even your professor will not appreciate the heading if it creates a certain challenge to the reader striving to understand the meaning it conveys.
Originality
First of all, you have to come up with your own title, and borrowing it completely from somewhere else is unacceptable for a number of reasons. Should your essay come with a topic from your professor, you are still free and even welcome to name it the way you see fit. Some students make a mistake thinking that they have to leave the topic given by the professor, when in fact, those are simply working essay titles, and it is expected that you will adjust it to reflect your own writing.
Tone
A title should always correspond to the tone of an essay, which seems like an obvious rule, and nevertheless, students often manage to miss it. That usually happens when they, for example, come up with argumentative essay titles long before they complete the necessary research and fit all the arguments into their essay. And once they are done writing, they don't even think that the topic might need to be fixed, they're just used to it and see nothing wrong with it. So, try to look at your essays and their titles with fresh eyes to make sure there is no drastic difference in tone between the two.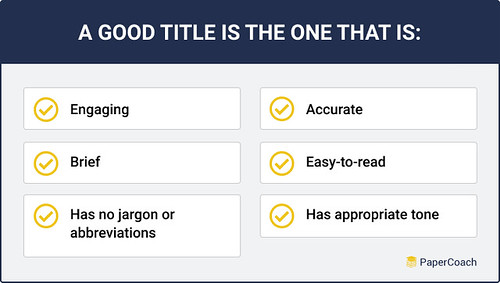 How to Come Up With a Title When You're Out of Ideas
Knowing the qualities an essay title should have is great, but making that sure may still be a challenge. But do not despair, you are about to learn some handy tips that will help you to succeed in naming your paper. They will be followed by some examples of solid persuasive and argumentative essay titles, which should give you a clear idea of how to deal with any other essay type as well whenever it needs an effective heading.
Do Not Write Your Title Before Your Essay Is Done
This is the rule authors have for books or articles, and it's not different with essays. There are several reasons why work should be done in this order. First of all, students waste way too much time trying to think of some creative essay titles. It seems natural to them that this is the first step, and that they should write an essay in the same order you would read one. However, you may recall that most movies are actually shot out of order. And although that's a completely different media, and in some cases, this is done due to some logistical or scheduling reasons, in other cases, a director wants actors to use the experience they had in previously filmed scenes. This part is similar to how you plan to write a title because to perfectly reflect the essence and tone of your writing, you first need to see what those are.
If you just feel that you cannot start writing without a title, just think of some heading very quickly and use it as your working essay title. Just don't forget to get back to it after finishing your essay and reworking it to fit the whole text and be catchy. The same goes for when you believe you have a great topic from the start. When you are proofreading your essay, you may have ideas of how to write a much better title for it.
Look at Your Thesis Statement
This is a logical approach to crafting a title, since you have to interest a reader with it and introduce the topic. Those are the things a thesis statement in your introduction is responsible for, so it makes perfect sense to use it or its part in your title. And that can only be done when you have an essay and a thesis that matches it.
Thesis: Classic children's fantasy books do not lose their popularity in the 21st century because we still need to escape from reality, perhaps even more than ever, and parents use these stories to teach their kids the values they found there back in their time.
Title: Surviving in the Age of the Internet: Classic Children's Literature Is Here to Stay
Incorporate Clichés and Popular Phrases to Make Catchy Titles for Essay
Do not be afraid to use what is considered clichés or overused catchphrases. This is a great tip for those who want to know how to write a gripping title in an essay, but you should rarely use those clichés as is, it's necessary to tweak them a bit or give them a new context. That way, readers will catch a glimpse of something familiar, but there will be something different about it, and the title will manage to spike their interest.
Use a Quote or Song Lyrics
This trick is very similar to the previous one, only in this case, it is not necessary to change anything when writing a well-known phrase. Creative essay titles that have a quote or a part of it rely on different ways to attract readers' attention. One of such techniques is to create a contrast between the quote and the following part of the title. Another idea is to pick a line that will be perfectly in sync with your essay topic and will simply make your title more noticeable.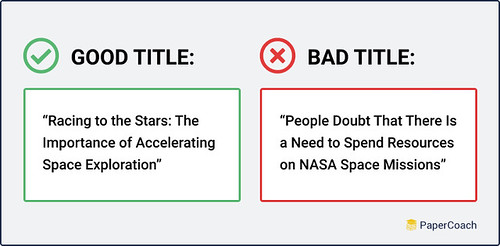 Structural Components of Good Essay Titles
While an essay has a strict structure, there are some essential parts well-composed essay titles may have. There is, however, more freedom in their order, and it's possible to write great performing titles without using all these components. Nevertheless, if you are not skillful enough yet and lack the knowledge of how to come up with a truly good title, these elements will help you get there. Let's use the following essay topic to break it down:
Saying Goodbye to the Imperial Legacy of the United States: Why We Should Go Metric
An Attention Grabber
(Saying Goodbye to the Imperial Legacy)
This is the catchy part of your title, either a reworked cliché containing wordplay, a quote, or something else.
Topic Identifiers
(Imperial, Metric)
These are keywords that inform a reader about the topic you will be exploring. You can't go without using at least one of such words.
Focus Identifiers
(the United States)
These keywords help to narrow the time, place, or the knowledge area in the context of which you will be exploring the presented subject. It's possible to omit this element, but if you want to play it safe and show your teacher or professor that you know how to create a title for an essay, try to include it as well.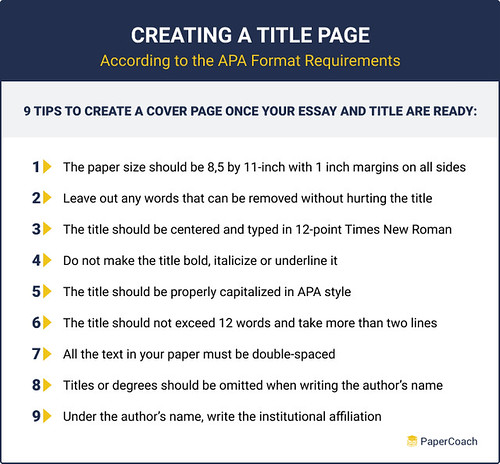 Get Inspiration from Our Essay Titles Examples
Now, let's see how all those principles we've discussed can be applied by looking at some sample titles. See whether they intrigue you and make you wish to learn more about the presented concepts. You can use those essay titles as examples to craft your own heading and try to recreate the same effect they had on you.
Persuasive Essay Titles
Bringing Justice Through Death: Why We Need Death Penalty
Beauty and the Rest: There Is No Real Winning in Beauty Contests
Entertainment Above All: Do Athletes Deserve to Be Paid So Much?
Freedom Has Consequences: The Importance of Limitations
Drowning in Information: The Great Flood No Arc Can Save Us from
Argumentative Essay Titles
Turning First Time Parents into First Class Parents with Mandatory Parenting Classes
Taking Liberties with Civil Liberties in Time of War on Terror
Anonymity vs. Unanimity: Should Users Be Obliged by the Law to Only Use Their Real Names?
"Me" in "Meme": Should All Memes Be Subject to Copyright?
Diversity Without Adversity: Should Movie Adaptations Stay True to the Original in Everything?
Some More Examples of Catchy Titles Essays Can Have
World Without War vs. World War: Who Will Win
Censorshi#. Does Bleeping Certain Words Help or Is It Completely Useless?
Virtual Reality, Real Dangers. Should There Be a Limit on the Time Spent in Other Worlds?
God Mode OFF: Why We Should Stop Trying to Preserve Animal Species
The Right to Be Forgiven. People Should Not Be Bullied for their Tweets from the Past
Your Last Hope
If despite all the tips and essay titles examples provided here, you still find it difficult to come up with a good title or an essay itself, there is still a chance to remedy the situation. Our academic writers will happily come to your rescue, even with mere hours till the deadline. In their years-long writing careers, they have mastered the craft of creating engaging headings, so you will never have to worry about your argumentative essay titles being too weak.